Sunday, September 16, 2018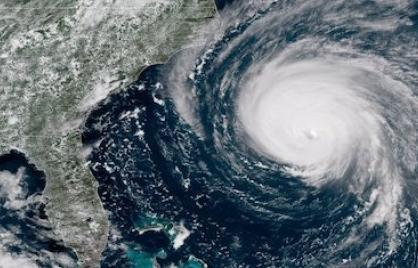 Florence made landfall on North Carolina coast on Thursday as a hurricane, was downgraded to a tropical storm (wind under 75 mph) on Friday, and has since been further downgraded to a tropical depression (winds under 35 mph) as it moves west in South Carolina, then north during the week. However, as we know from Harvey last year, threats of flooding and long-term utility outages still remain, as Florence continues to deliver a deluge of rain.

Of the six counties that contain federal prison facilities in North Carolina and South Carolina, only Marlboro County, SC is reporting power outage since yesterday, with over 60% of the county still without power. Yesterday, the BOP reported on its Florence Update webpage that FCI Bennettsville, which is is Marlboro County, was operating on generator power. As of August 1, 2018, there were 48 DC men in the medium security facility in Bennettsville, SC. If you know of anyone in this facility, or if you know anyone in Bennettsville, please reach out to the CIC at 202-478-9211.

Also, NC Department of Transportation is advising drivers to avoid driving through the state of North Carolina altogether, due to flooding on the roads. Interstate 95 in both directions has flooded in much of North Carolina and as it enters South Carolina as well. This road flooding could last at least a week, so visitation to these states' BOP facilities will not likely be possible in the near future. Visitation at the NC and SC BOP facilities has been suspended. One can check for visitation updates for each facility from the BOP location page.

However, Rivers Correctional Institution (Rivers CI), a BOP-contract facility operated by the GEO Group, Inc., is near the Virginia-North Carolina border, and was not so adversely affected by Florence as to keep its visitation closed. Visitation has re-opened at Rivers CI today. As of August 1, there were 256 DC men incarcerated at Rivers CI.

There were 388 DC residents incarcerated in North Carolina BOP facilities and contract facility Rivers Correctional Institution and 156 DC residents in South Carolina BOP facilities as of of August 1, 2018. The facilities in these states include:
Rivers Correctional Institution, NC
Federal Correctional Complex (FCC) Butner, NC
FCI Bennettsville, SC
FCI Edgefield, SC
FCI Estill, SC
FCI Williamsburg, SC
The CIC will continue to monitor the effects of Florence in these areas during the week. Meanwhile, if you know of any incarcerated DC residents in the above facilities, and if they have reported any updated information to you their experiences during Florence, please contact the CIC at 202-478-9211 or 202-445-7623.

Thank you.