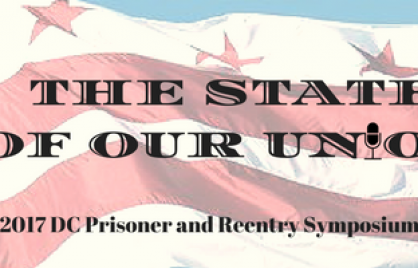 The CIC and Public Defender Service (PDS) Prisoner & Reentry Legal Services Program co-hosted the 2017 DC Prisoner and Reentry Symposium: State of Our Union, on Friday, March 10, 2017 at the University of the District of Columbia David A. Clarke School of Law. About 200 persons attended, which signifies the importance and demand to learn about the top issues facing incarcerated and returning DC residents.
As part of registration for the Symposium, organizers polled registrants on the top issues facing incarcerated DC residents and those returning to DC from incarceration. The top issues were: 1) Transition from Incarceration to the Community; 2) Employment and Economic Opportunity; 3) Housing; and 4) Parole/Community Supervised Release. The four Symposium sessions were designed to address these top four issues, with advocates, service providers, agency staffers, and policy makers providing their expertise and perspectives on how to best address these issues for justice-involved DC residents.
During lunch, government leaders addressed the audience, sharing their work and support of creating a climate conducive to successful transition and reentry. Congresswoman Eleanor Holmes Norton shared her thoughts and efforts to achieve criminal justice reform for DC residents in this changing political climate. Councilmembers Charles Allen and Robert C. White, Jr. expressed their openness and willingness to engage with constituents to find ways to improve conditions for justice-involved DC residents. Criminal justice agency leaders Nancy Ware (CSOSA), Quincy Booth (DC Dept. of Corrections), Patricia Smoot (US Parole Commission) and Patti Butterfield (Federal Bureau of Prisons, Reentry Services) each addressed how their agencies are addressing one or more priority issues in their work and initiatives. Avis Buchanan, PDS Director, moderated this special lunch session.
The main feedback from participants was that the Symposium was informative and useful to the fellow advocates, service providers, staffers and policy drivers in the room. We hope that attendees will take the information they learned on Friday to improve the services and decisions made in their work. Meanwhile, the CIC will continue to facilitate spaces for deeper dives on these and other issues via smaller events, such as CIC Pop-Up Think Tanks, and other forums. We hope that you can continue to join us to provide your expertise.