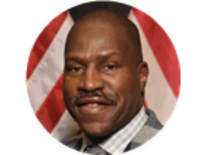 Mr. Thornton, CIC Board Chair, is a Special Assistant at the DC Office of Human Rights, with a focus on Ban-the-Box initiatives. Prior to this position, he was Director of the Mayor's Office of Returning Citizen Affairs under this and the prior mayoral administrations. In both positions, he advises the Mayor on returning citizen issues.
Mr. Thornton born and raised in Ward 7, graduate of H.D. Woodson high school, has received many certifications, licenses, awards and industry related accolades. Among them licensed mechanical engineer, licensed real estate agent, national Certified Vocational Trainer, and Peer to Peer recovery coach. In 2005 he would move on and launch CB Thornton Realty Inc. Through partnerships with local non-profits, City and Federal government agencies CB Thornton Realty Inc. has provided housing to some of the city's neediest residents, homeless youth, people living with HIV / AIDS, low income families as well as handicapped accessible housing.
In addition to Mr. Thornton's real estate development endeavors, he provides workforce development/mentoring services, counseling, vocational training, and life skills with an emphasis in life coaching and transitional skills for DC Jail detainees and returning residents.